When talking about the mechanical keyboards of AKKO, the first thing that will make you remember forever is the extremely impressive aesthetic that the company has for gamers. In keeping with its philosophy, this time the duo AKKO 3108 Silent and AKKO 3087 (Tenkeyless model – short version) continue to make gamers admired.
The first impression that the mechanical keyboard AKKO 3108 Silent brings, is the very gentle color scheme. The subtle combination of the white and light gray keycap adorned with odd keys Blue and Purple light. Besides, they are more prominent on the background of the gray key cover, which makes the product feel very pleasant and simple, but it attracts all eyes with accents.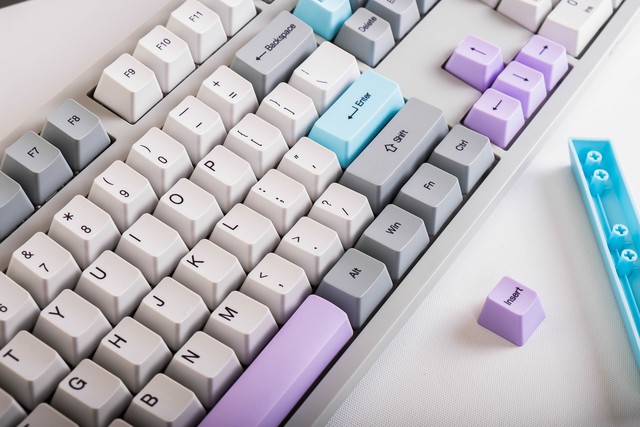 Not only beautiful, these are also the most durable keycap in the world.
As people who love mechanical keyboards know, in addition to the double shot, there is also a technology to print characters on keycap very "genuine" which is Dye-Sub. This type of printing gives extremely sharp characters, the font is customizable so it will look much more beautiful and detailed than Doubleshot. Regarding durability, we can also be absolutely assured, because dye-sub technology will allow the character to sink under the PBT layer of the keycap so that it will probably never be blurred.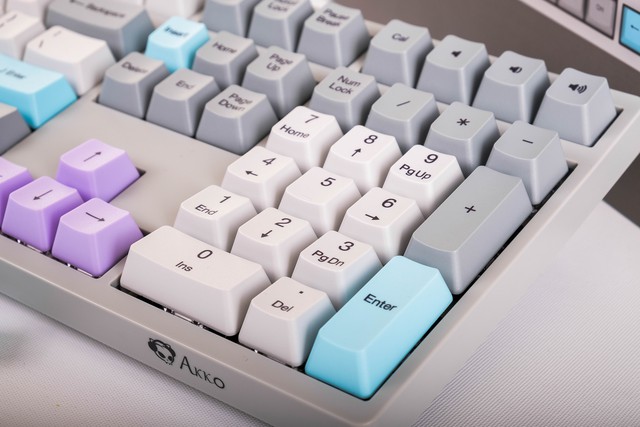 Although the model is in the "popular" segment, only about 1.3 million VND, but both AKKO 3108 Silent and AKKO 3087 Silent have respectable finishing quality.
The frame of the AKKO 3108 Silent is inherited from the design and material from previous models, which we consider to be very solid. Classic key design, no cumbersome lines, but in return is very suitable for the color style of the overall key. The rounded key corners also make the AKKO 3108 Silent the necessary softness.
Not only looks, the feeling of typing from AKKO 3108 and 3087 will also surprise users.
In order to reduce the cost of products to the best possible level, AKKO has launched the AKKO version of the 3018 Silent key switches. They have three basic colors: Blue, Orange, and Pink, which correspond to Blue, Brown, and Red of Cherry MX.
In terms of quality, through tests and long-term use, it can be confidently affirmed that the durability of the AKKO switch is not inferior to Cherry MX, and the click feeling is also excellent.